Smallest High Quality BTE Digital Hearing Aid
Pre-program Digital Trimmer Mode, Small BTE Aids For Ear Hearing, A13 Battery For 300 Hours
Smallest High Quality BTE Digital Hearing Aid
About the product:
This Mini High quality BTE digital hearing Aid G-26L is a good digital hearing aid helps to overcome your defects in hearing.This digital hearing amplifier seems small and simple, designed just to fit behind your ear comfortable and lightweight. it's indeed a major breakthrough in the sound interception and digital amplification technology. It has an advanced digital noise reduction feature that gives you the best amplified sound.
For convenience the G-26-L digital hearing aid has the adjustable buttons that allows you to set sound level easily according to your hearing need.Moreover,this BTE Hearing aid is the high power sound output max to 130dB for severe hearing loss with the 2 channel Program mode by Ready-to-wear software with no the PC software.
Feature:
• Digital circuit processing
• Low frequency gain adjustment(H-tri)
• Volume control with robust rocker switch
• ON/OFF with Battery door
• 2 program models(No T-coil)
• Frequency 200Hz-4800Hz
• Adjustable Volume button
• Low frequency gain adjust (H-trimmer)
• Zinc Air battery A13/AG5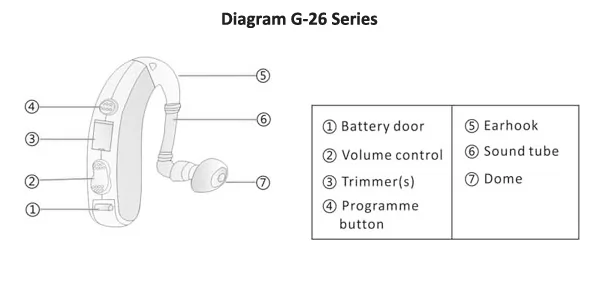 Specification:
Parameters per ANSI S3.22-2003

Small BTE digital Hearing Aid enhancer for hearing loss

Model No.

G-26L

Product Name

Small No PC Software Digital Hearing Aids

Fitting Range

Fitting for Severe Hearing Loss

Application

For All people behind Right and Left Ear

Max OSPL 90(dB)

130dB

HF Average OSPL 90(dB)

124dB

Peak Gain(dB)

60dB

HAF/FOG Gain(dB)

50dB

Frequency range

200Hz to 4800Hz

Trimmers

H-trimmer

Total harmonic distortion/THD%

800Hz : 3.0%

1600Hz : 2.0%

Battery current

Less than < 1.6mA

Battery size

Zinc Air A13,working last for 1 month

Equivalent input Noise Level

< 28 dB SPL

Induction coil Sensitivity (at 10mA /M)

85 dB minimum

Physical buttons

Program button

Normal/Noise reduction mode

Trimmer

H(Noise reduction to get less noise)

Tune button

Sound adjustable

For hearing loss

Moderate/Severe

Certificates Approved

CE,FCC & ROHS FDA

Materials

ABS for hearing aid body

Silica gel or silicone for Earplug

Compact Gift box/OEM

Packing and size

Carry box:8x8x3.5cm or 3.1x3.1x1.4 inch

Mini Hearing Aid size: 0.3x0.5x1.6 inch

Hearing aid net weight: 4.5 g

200 units in a standard carton

Gross weight is 16.0KG per carton

Package including

1 x G-26 Hearing aid

3 x Large,Mid,Small size Ear Plug

1 x Cleaning Brush tool

1 x Ear tube

1 x Cell battery( more battery available)

1 x Easy read User manual

1 x Compact carry gift box

Warranty

1 Year warranty and Life time service
Who can wear this small digital Hearing aid?
1. This digital Hearing aids are suitable for people who have the comunications difficulties with families,friends,son,daughters,colleagues and others every day.
2. This BTE Hearing aids are fitting for adults men and women who have the mild to Severe hearing impaired.
3. The product mini hearing aids can fit and in the Right Ear or Left Ear for severe Hearing loss.
What you have by purchased:
1 x Small BTE Digital Hearing Aid
1 x Compact Gift case
1 x Ear tube
3 x Different size ear buds, L+M+S
1 x Hearing aids batteries size A13(shipping limit)
1 x Cleaning brushes
1 x User Manual
BTE digital hearing aids accessories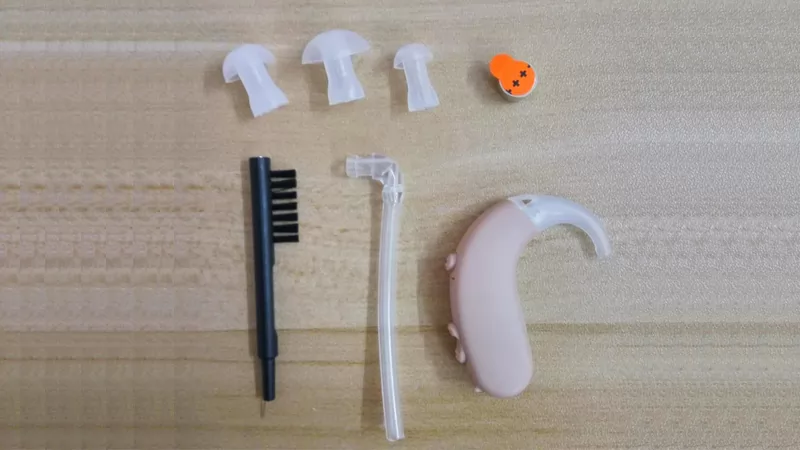 How do BTE digital hearing aids work?
There are different types of digital hearing aid, but they all work in a similar way to make sounds louder and clearer.
This is how they work simply:
1. A built-in microphone picks up sound and turns it into an electrical signal.
2. Digital technology in the hearing aid amplifies the electrical signal.
3. The amplified signal is then turned back into sound for you to hear.
Packing of the G-26-L Digital hearing Aid: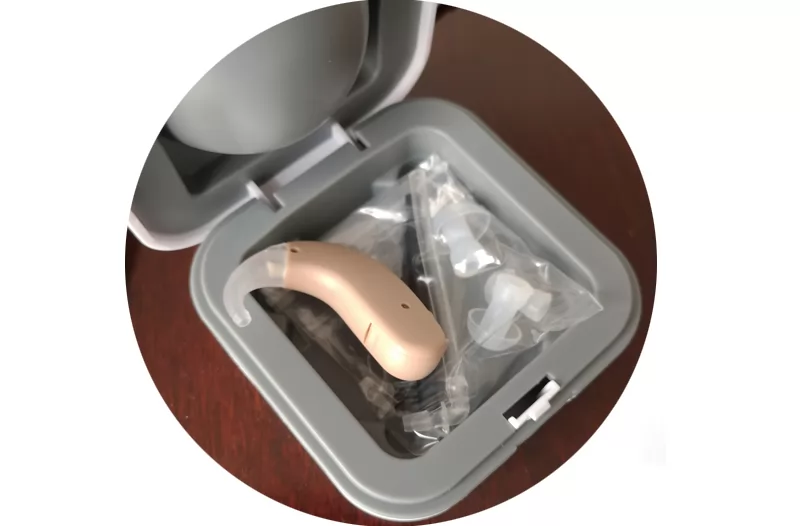 Earsmate Advanced Digital Hearing Aid Amplifier For Nice Hearing and Life
Terms and Conditions:
Payment terms: Paypal,Western Union,MoneyGram,T/T available
Lead time: 3-5 days
Shipping way: DHL/FedEx/TNT/UPS,or By air,by Sea-shipping
Warranty:1 years and lifetime free service
Share your thoughts with us today!
Showing

6

of

0

reviews
Contact Us Now
Enter your inquiry details, We will reply you in 24 hours.
Phone can't be empty
Phone
Products can't be empty
Products you want
Verification code error

People who viewed this item also viewed