BTE Bluetooth Hearing Aids With Rechargeable Batteries
Wireless Bluetooth In Hearing Aids, Bluetooth Earphone For TV headset, OEM Service
BTE Bluetooth Hearing Aids With Rechargeable Batteries
The old hearing aids often limited the wearer's access to many personal audio devices such as mobile phones and music players. For example, in order to use a music player while jogging, you would have had to remove your hearing aids to accommodate a pair of earbuds.
However, today's sophisticated wireless hearing aids, such as the new Earsmate brand of G-25BT from China, adapt new Bluetooth technology to make it possible to connect with personal electronic devices and stream signals directly to hearing aids.
The new BTE Bluetooth hearing aids G-25-BT is built with the latest wireless bluetooth technology of BT4.2 and frequency control to adapt easily for all adults,seniors and elderly's hearing loss,phone calling,music and TV watching.the Premium rechargeable battery with longest life for 60 hours available in hearing amplifier industry,by short time charging.

Key Feature:
1.Sound Output: 120dB ± 5dB
2.Peak Gain: 40dB ± 5dB
3.Harmonic Wave Distortion: ≤5%
4.Frequency Range: 450~5000 hz
5.Equivalent Input Noise: ≤28 dB
6. Adjustable Volume Wheel
7. Power On/Off Switcher
8. Trimmer and mode button
9.Battery: Built-in High quality Lithium battery
10. Rechargeable battery duration max. 60 hours
11.The rechargeable battery cycle time up to 500 times without decline
BTE Bluetooth rechargeable hearing aid pictures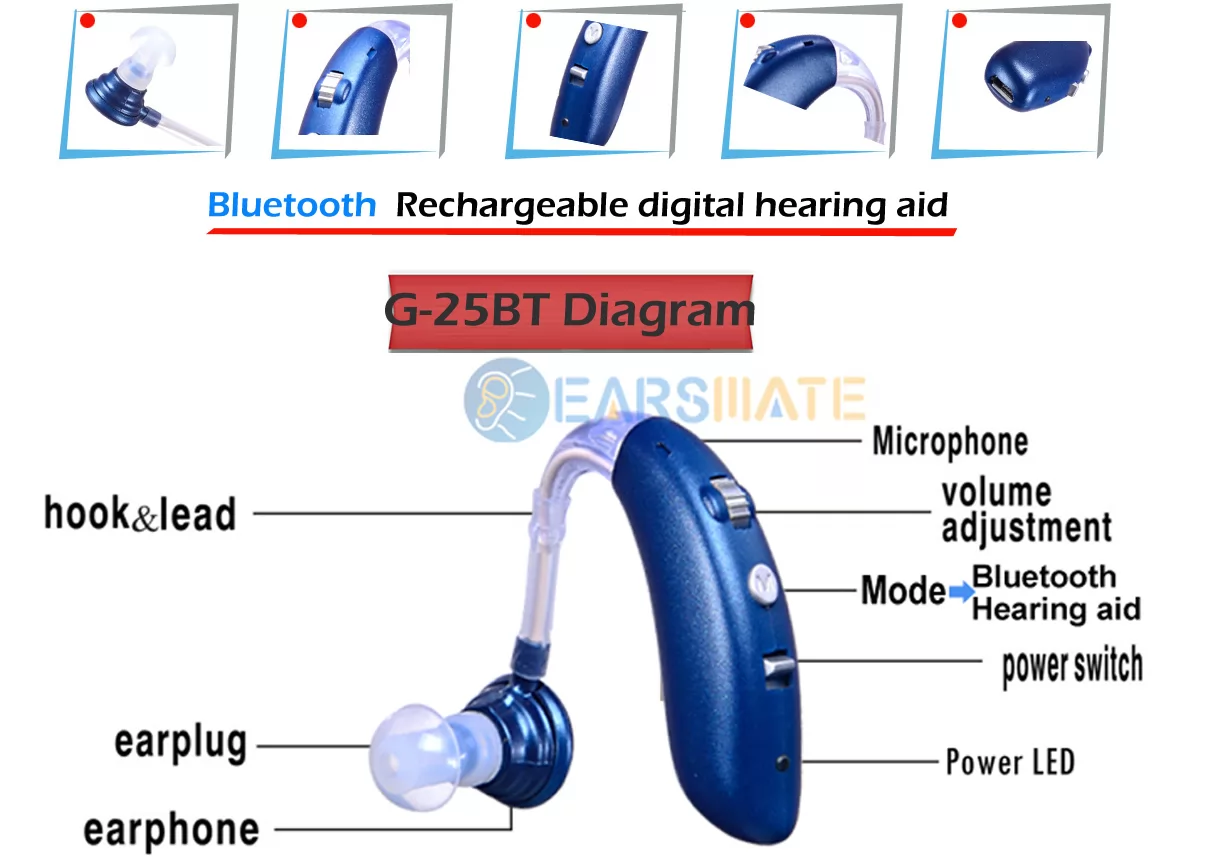 Features and benefits of Bluetooth headset and Hearing devices:
• Bluetooth V4.2 chips
• Maximum sound output up to 125dB
• Maximum sound gain up to 45dB
• BTE Hearing aid fitting for adults and seniors hearing impaired
• Rechargeable battery capsules (last working 60hours per charge)
• DC5V 1A Power charger for the 60mAH Li-on battery–provides at least 500 cycles of charging
• Approximately 3-6 hours for full power charging
• One hearing device, three different uses: amplify the Ear hearing, answer calls or listen to music.
• Adjust the volume of each ear hearing aid individually with 4 level.
• Time for hearing amplifier mode Up to 60 hours (Subject to the surrounding noise level)
• Talk time is up to 5 hours
• Music playing time is up to 5 hours
• Standby time about 100 hours
• Voice prompt in English
Bluetooth Product and accessories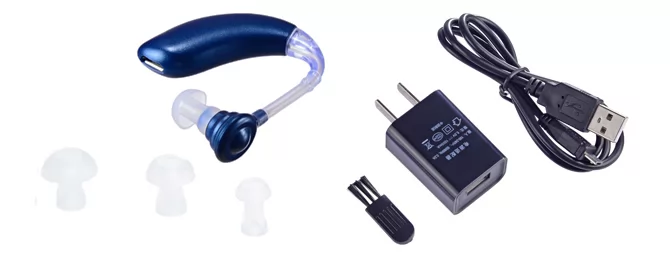 Specification
Product Name
BTE Bluetooth Hearing Aid and headset earphone
Fitting Range
Fitting for mild to severe hearing loss
Application
wearing behind on right Ear and left Ear
Technical Data
IEC 60118-7/ANSI S3.22-2003
Model Number
G-25-BT
Peak OSPL 90 (dB)
130dB±5dB
HAF OSPL90(dB)
120dB±5dB
Peak Gain(dB)
50dB
HAF/FOG Gain (dB)
40dB

Total harmonic distortion/THD%

≤3.0% at 800Hz
≤2.0% at 1600Hz
Frequency range(Hz)
300Hz-4500Hz
EQ Input Noise(dB)
≤28dB
Battery Type
Rechargeable Li battery
Power consumption
DC 3.7V, Current: ≤2mA
Power switcher
Yes, On/Off button
Battery working
Working day time 100+ Hours by 4-6hrs charging
Certificates Approved
CE,FCC & ROHS, and the FDA
Materials
ABS for hearing aid body
Silica gel or silicone for Earplug
Paper Color box/OEM
Packing and size
Paper box size:14x13x4cm or 5.5x5.1x1.6 inch
Hearing Aid size: 0.4x0.5x1.8 inch
Hearing aid net weight: 6.5g
100 units in a standard carton
Gross weight is 18.0KG per carton
Package including
1 x G-25-BT Rechargeable Hearing aid with bluetooth
3 x Large,Mid,Small size Ear Plug
1 x Cleaning Brush tool
1 x Power charger
1 x DC adapter(EU,US,UK,JP,AU type)
1 x USB cable
1 x Easy read User manual
1 x Color box
Warranty
1 Year warranty and Life time service
Advanced Digital Great Ears Mate Hearing Aid Device For Nice Hearing Life
Why the EarsMate?
Thanks for reviewing the 11 point before your order decision:
5.(Delivery) Our factory keep all materials in stock and small quantity samples available.It's only need 1-2 days for regular samples delivery.It's about 3-6 days for order less 100 units,7-10 days for order less 1000 units and 3 weeks lead for order 3000-5000 units.
To keep the timely and safety shipping,we work with the International famous shipping agent and company,including the DHL,TNT,UPS,FedEx,EMS etc,also,for the low shipping cost,the delivery by Sea is optional.
6.( QC Management) we keep the 100% OQC/IQC rule for all materials,semi-product and finished product.The QC department make sure there is no any fault product before shipping and try to control the faulty ratio less than 2.0‰ when the shipment arrive at customer.
7.(Warranty) we provide 12 month warranty for all hearing aids since the products depart from our factory.And there is product cost free for replacement if it's faulty as soon as the new item you receive in hand.There is free materials cost and free repair if the products has physical quality problem based on the warranty policy.We provide the lifelong after-sales service to all customers,including the durable maintenance and repair support.
8.(Capacity)There are 4 production lines in workshop and can produce 15000pcs each month by the 10-15 skilled workers;We will launch 1-2 units new hearing devices each season by the self-factory R&D expert team,and make sure to provide 6 different models hearing aids products to market each year.
……
Share your thoughts with us today!
Showing

6

of

0

reviews
Contact Us Now
Enter your inquiry details, We will reply you in 24 hours.
Phone can't be empty
Phone
Products can't be empty
Products you want
Verification code error

People who viewed this item also viewed