Best Ric Hearing Aids
Small Receiver In Ear Canal, Digital NH trimmer mode, A13 Size 300 Hours
Best Ric Hearing Aids G-28RIC
The hearing loss people probably want to wear the hearing aids for many hours throughout the day. Having this in mind,the earsmate best ric hearing aids G-28Ric have made sure that the ear plugs of the Ric hearing aids devices are super soft, lightweight and comfortable.
In addition, our Open fit Ric hearing aids amplifiers have earline shape fixed wired running tubes, so the device is for you left ear or one for your right ear. In this way, you will always have the most secure and comfortable fit and your ears won't feel sore when you remove the amplifiers.The new best ric hearing aids are your best choice for improving hearing loss and enjoy the life again.

Hidden invisible best Ric hearing aids G-28-Ric
Features:
Over-the-counter small Ric Hearing aid
Easy-to-use Ric style Hearing Aid Receive in canal
Feedback reduction technology
For people men and women hearing loss
Finger control for Volume tone 1-4 level
Sound output Maximum: 115 dB

Full on Acoustic Gain: less than 40dB

THD Ratio: ≤ 1.0 % (at 1600 Hz)
Frequency Response: 500Hz-4500 Hz
Super low battery drain less 1.0mA
Battery life: 1 unit Battery A13 work for 300+hrs
Hearing aid size(in): 0.35x0.55x1.4 inch
Hearing aid net weight: 3.9g
Warranty:1 Year
G-28 RIC Hearing Aids benefits:
Small discreet open fit hearing aid,less than finger size

Unique Light weight and comfortable open fit behind the Ear

The mode N-H Trimmer switcher for different sound environment

High quality Microphone and Receiver in Canal

Low current and long lasting battery A13 for 300 hours
Best Ric hearing aid on right ear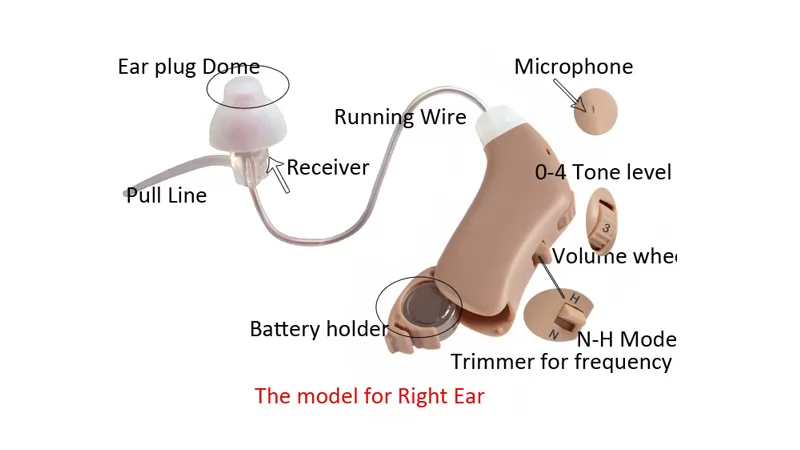 Invisible best Ric hearing aids G-28-Ric
Specification:
Product Name
best Ric Hearing Aid
Fitting Range
For mild to moderate hearing loss
Application
All people womem and men on left Ear
Technical Data
IEC 60118-7/ANSI S3.22-2003
Model
G-28-Ric L
Peak OSPL 90 ( dB SPL)
110dB±5dB
HAF OSPL 90 ( dB SPL)
105dB±5dB
Peak Sound Gain(dB)
≤40dB
HAF/FOG Gain (dB)
35dB

Total harmonic distortion/THD%

≤3.0% at 800Hz
≤1.0% at 1600Hz
Frequency range(Hz)
300Hz-4500Hz
Input Noise(dB)
≤28dB
Zinc Air battery
AG5 or A13
Power consumption
DC 1.5V, Current: ≤2mA
Volume tone adjust
Volume wheel 1-4 level
Trimmer mode
N-H mode
Battery working
Working day time 20-30 days(300 Hours)
Certificates Approved
CE,FCC & ROHS, and the FDA
Materials
ABS for hearing aid body
Silica gel or silicone for Earplug
Paper box and compact gift box/OEM
Packing and size
Color box:8x8x3.5cm or 3.1x3.1x1.4 inch
Hearing Aid size: 0.35x0.55x1.4 inch
Hearing aid net weight: 3.9g
200 units in a standard carton
Gross weight is 16KG per carton
Warranty
1 Year warranty and Life time service

The best RIC bte Hearing aids are suitable for the people invisible over ears:
According to the different requirements of Users on hearing aids, we can classify these Users into three groups as per their needs:
The 1st group: Need hearing aid to hear clearly, no requirements on the appearance, the price is cheap and can work for talking.
The 2nd group: Need hearing aid to invisible and beautiful, meanwhile the sound quality should be OK at certain requirements, but they can tolerate the hearing aid wearing discomfort to some extent.
The 3rd group: Need the hearing aid comfortable, clear, beautiful appearance. This group of Users' needs will be the main customer of RIC hearing aid.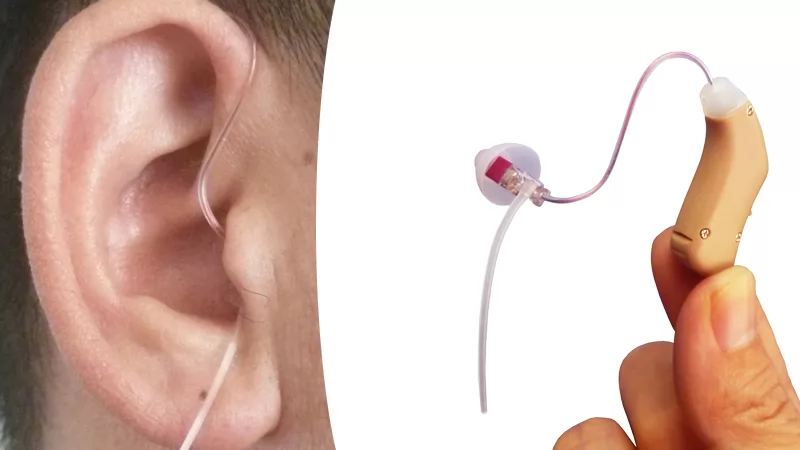 The Invisible best Ric hearing aids are forecast to account for 60% of the global hearing aid market and will occupy an important position among mid- and high-end customers in market.

Package Includes:
1x Discreet Ric Hearing Aid
1x Compact Carry Case
3x Ear Plugs (small, medium, large)
1x Cleaning Brush with magnet for removing batteries
2x Zinc Air A13 Battery
1x User Manual

Earsmate TIPS:
The benefits of the RIC vs BTE Hearing aids
1. The Ric hearing aid body is more smaller than the regular BTE Hearing aid because of the Ric hearing aid receiver is in the ear canal not in the hearing aid body,so the Ric hearing aids are more discreet and invisible than the BTE hearing aid.
2. The Ric hearing aids have the thin running wire connected the receiver,it is more beautiful than the BTE hearing aid with the tube.
3. The Ric hearing aids receiver are more closer to the tympanic membrane, so the sound is more natural and clearly.
4. the RIC hearing aids Receiver with a special anti-earwax device to make the wearer feel more comfort and reliability when using the hearing aid in humid environments.

Recently, in the Europe and the United States Hearing Aids market, a new high-tech product called mini RIC hearing aid has become the newest category of hearing aids with the fastest growth in demand. From pocket hearing aids, BTE hearing aid, ITE hearing aid to this mini hearing aids (RIC hearing aids), this may be one of the most revolutionary innovations in the history of hearing aids industry.
Share your thoughts with us today!
Showing

6

of

0

reviews
Contact Us Now
Enter your inquiry details, We will reply you in 24 hours.
Phone can't be empty
Phone
Products can't be empty
Products you want
Verification code error

People who viewed this item also viewed